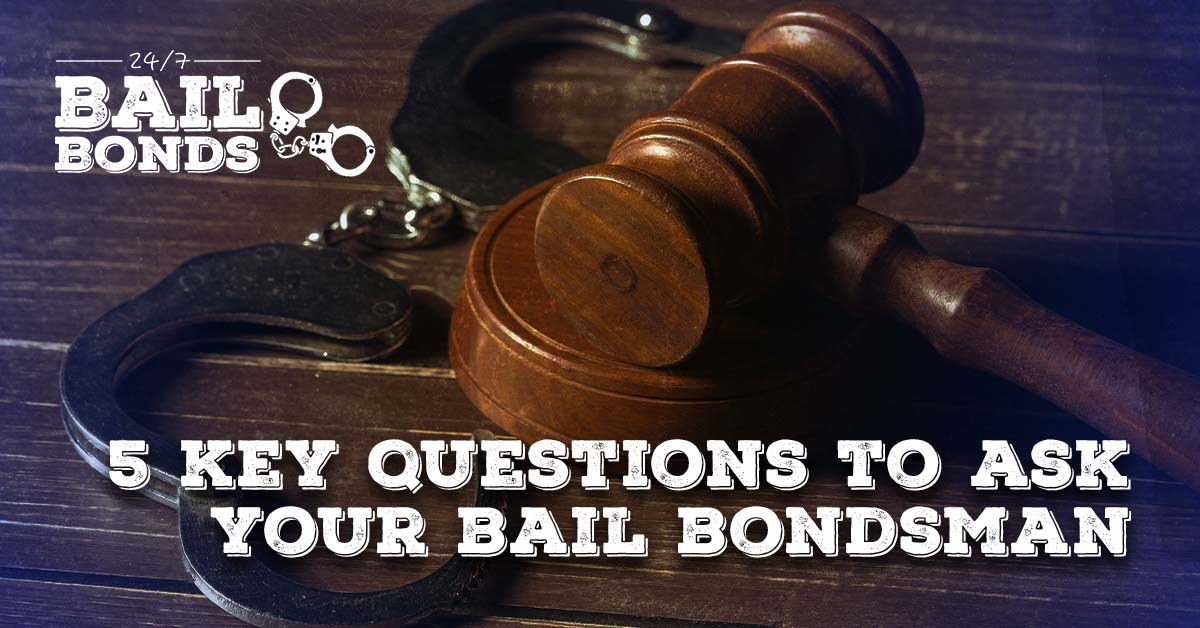 When you find yourself, or your loved one, facing an arrest and needing bail, it is crucial to ask your bail bondsman proper questions to ensure both parties understand each step in the process. Having an experienced bail bond agent will significantly help speed up the process of getting out of jail.
Asking these five questions will guarantee you have the best agent walking you through the arrest and bail process:
1. How Does Payment Work?
This question should be one of the first questions you should ask your bail bondsman. Some financial responsibilities will fall on you when you need to be bailed out of jail. A portion of the total bail amount must be paid upfront to the bail bond company, so understanding the financial responsibilities is essential.
2. Is There a Bail Bondsman in my Location?
When you find yourself in jail, you may wonder, is there a bail bond agency near me? Using an agency that has numerous locations can be helpful in a situation like this. When you need a quick release from jail, using bail bondsmen in the area can be beneficial.
Not only does this help get you out of jail quicker, but it will also allow you to have an agent who understands that area's specific rules and regulations. The more experienced agencies will provide you with all the information you need to be released quickly.
3. How Experienced Is My Bail Bondsman?
Having an experienced bail bondsman is very helpful. They will have established relationships with local law enforcement and other professionals in the county that you have been arrested in. This can help to secure the bail bond to get you released as quickly as possible.
When using an experienced bail bondsman, you will likely have an agent who understands your situation and can provide you with support and information throughout the process. Customer service is also a priority for companies with more experienced agents. These bail bondsmen will have the knowledge and skills to guide you in the right direction after an arrest.
4. What Type of Paperwork is Needed?
When you get arrested and need to be bailed out of jail, a family member or friend will need to fill out some forms and paperwork. For example, a guarantor form (or an indemnity agreement) will be needed when getting a bail bond. This form outlines the responsibilities of the agreed cosigner and the bail bondsman, ensuring that the cosigner understands their obligations in relation to the bail bond.
Understanding this form is extremely important. If you have any questions about this step in the process, ask your bail bondsman to explain exactly what you may be consenting to.
5. How Quickly Can You Get Me Out of Jail?
Now that the questions regarding bail posting information have been covered, you will want to know how quickly your bail bondsman can get you out of jail. Being in jail is scary. Your bail bonds agent understands that. Having the bondsman post bail quickly and getting you out should be a top priority.
24/7 Has The Bail Bondsman Needed To Get Your Tail Out Of Jail
24/7 Bail Bonds is an agency that provides bail bond services to twelve different counties in Georgia. With over 15 years of experience, our bondsmen have extensive knowledge of the bonding process. Having access to our bail agents 24 hours a day, 365 days a year, guarantees that we can get your tail out of jail.
The counties that 24/7 Bail Bonds services include Bulloch, Bryan, Candler, Emanuel, Effingham, Evans, Jenkins, Montgomery, Rabun, Tattnal, Toombs, and Wheeler County.